Addiction is a Primary Medical Brain Disease that is progressive and chronic if left untreated is often fatal. Why does one child develop addiction and the other does not?
Exposure to schedule II medical substances like opioid pain killers
Untreated or undertreated disorders like anxiety, ADHD, depression.
There are three criteria that is required for a "disorder" to become classified as a Primary Medical Disease.
The condition must be detrimental to someone's health and well being
There must be a specific set of signs and symptoms for the disease
There must be a specific medical test that when given is ALWAYS abnormal.
Addictions caused by chemical ingestion such as schedule II prescription opioids cause the frontal lobes of the brain to shut down. This reduced brain activity can be observed on a brain scan even when not under the influence of the root cause.

#DanielsLawOhio
Over a year ago I embarked on a mission to pass a law that would change Ohio's current policy on opioid prescriptions. It has not been an easy process. You see, while I have been tirelessly working for this legislation, I have also been mourning the loss my oldest son, Daniel, who passed away from the disease of addiction. It is Daniel's memory that keeps me pushing for this necessary change.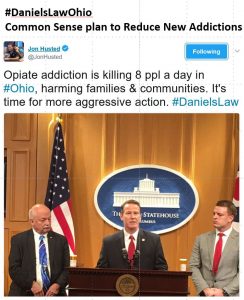 The process of creating a bill that will impact the trajectory of this problem has required the help and support of many people. I have spoken to countless experts: doctors, police officers, pharmacists, addiction specialist, trade association executives, and many others. With their input, and the commitment of legislators in both the Ohio House and Ohio Senate, we have created a bill that has all the necessary pieces to enact lasting change.
As a result, the following changes have recently been incorporated into Daniel's Law:
Grants authority to all Ohio licensed pharmacists to dispense or administer Naltrexone in pill or injection without a prescription. If the pharmacist can verify the person has been on Naltrexone. Creating a safety net for the patient on Naltrexone MATs
This journey has allowed me to encounter hundreds of families, like my own, who feel the impact of the addiction epidemic every day. It has encompassed all races, ages, and socio-economic groups. It is a universal problem which must be addressed through a comprehensive approach which includes the doctors who write the prescriptions, the pharmacists who fill them, the addiction specialists who provide treatment, and the manufacturers that make and promote these products.
Sincerely,
Scott Weidle
---
Daniel's Law Ohio Publications
---
Videos
# DanielsLawOhio
Little Pill Big Problem Ohio's Opioid Story
Ohio Dreamland Sam Q
US Drug Czar
Purde Pharma story & CDC Director
One of the Greatest Mistakes of Modern Medicine
1 to 1 correlation medical opioids and opioid deaths
Ohio AG Sr Staff 2013 acknowledges medical opioid problem
US Surgeon General
What Stigma feels and looks like
Face to Face
Cleveland Clinic & Opioids
DanielsLawOhio II
Travis heart felt story happens 12x a day in Ohio
DanielsLawOhio goal
---
Press Releases
Princeton University Study
American Scholar
Podcast
Daniels Law Legislation
---
Photos
Medical Opioids have killed more than Heroin
OARRS facts
Primary Care & Opioids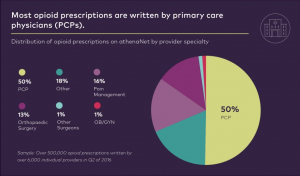 USA vs world Opioid use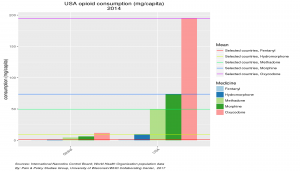 ---
Contact Me
Phone: (937) 855-3322
Email: info@danielsstory.org