Daniel's Law was passed on December 19, 2018 by Governor John Kasich. Daniel's Law grants authority to all Ohio licensed pharmacists to dispense or administer emergency naltrexone in pill or injection without a prescription as long as the pharmacist can verify the person has been on Naltrexone successfully in the past. This creates an enormous safety net for patients on naltrexone who may have difficulty finding and maintaining providers who are willing to treat their addiction.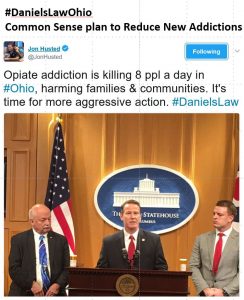 The process of creating a bill that will impact the trajectory of the opioid epidemic has required the help and support of many people. I have spoken to countless experts: doctors, police officers, pharmacists, addiction specialist, trade association executives, and many others. With their input, and the commitment of legislators in both the Ohio House and Ohio Senate, we created a bill that has all the necessary pieces to enact lasting change.
This journey has allowed me to encounter hundreds of families, like my own, who feel the impact of the addiction epidemic every day. It has encompassed all races, ages, and socio-economic groups. It is a universal problem which must be addressed through a comprehensive approach which includes the doctors who write the prescriptions, the pharmacists who fill them, the addiction specialists who provide treatment, and the manufacturers that make and promote these products. If Daniel's Law had been in effect back in 2015, Daniel would still be here today. 
Thank you to the bill sponsors, Senator Jay Hottinger, Senator Bob Hackett, and Representative Jay Edwards. This would not have happened without the support of each of you.