Over the course of the past 12 months, my youngest son and I have been working on something that is very near and dear to our hearts, and I'm honored to finally share this with each of you.
As most of you know, the past several years have been very difficult for my family given the death of my eldest son, Daniel, in late 2015. Throughout the process of trying to find Daniel medical treatment for the disease of addiction, and throughout my own grief process, I realized that I had come out of this wormhole a very different person. It was a journey that I never intended to venture through, yet I found myself time and time again living in a hell that I wouldn't wish on my worst enemy. I didn't want the lessons I had learned, the mistakes I had made, or the discrimination I had discovered, to drift away into the cosmos without ever resulting in some type of meaning. So, I began journaling and documenting the events of my life and the events of Daniel's life in attempts to raise awareness, educate the masses, and encourage others to stand with me as we fight an epidemic that is ripping children from their parents on a daily basis.
Wes and I never asked to be bestowed with the knowledge encompassed in this book, but were forced to learn it as we found ourselves living a life we couldn't escape. We hope by putting our experience into words, it will help others avoid the pitfalls we encountered. No matter where you are at in your life right now, we strongly believe that you could benefit from the stories and information we've gathered together in this memoir. May it bless you, your family, your friends, and spark a much-needed change in our medical systems, government, and communities. Knowledge is power, but it is nothing without action.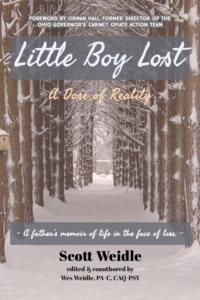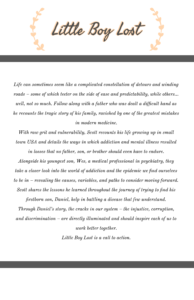 Reviews

 
"I can not stay enough about the realness and writing style contained in this book. There's so much to learn within these pages whether someone wants to stay narrow minded or be open minded regarding addiction they should read this dose of reality learned the HARD way."
"I'm 5 chapters in and I've cried twice. I haven't been able to put it down. It's been such a good book so far, wow!"
"So I read this book yesterday and boyyyyyyyy did I cry. It hits so close to home…if you're on the side of "they did this to themselves it's not a disease," please educate yourself. This book might help. Compassion can go a long way… I think a lot more people need to understand this.…after reading Daniel's story it all makes sense… the broken system has set us up to fail. We need to do something so no other family has to feel this pain and brokenness. I'm am so glad that Scott and Wes decided to share their story about Daniel, a story that most of us have ourselves. I can't imagine the pain of losing so many when the pain I have from losing one is so great. There are parts of this book that ripped my heart out because I knew the exact pains they were feeling, and I'm so sorry other people know that pain. Like Scott said, we can't move on but we can move forward. Read this book! Even if you've never known anyone with addiction."
"A beautifully written tragedy that leads one father on a path of redemption and understanding. This book discusses mental illness, addiction, and how we found ourselves at the center of the opioid epidemic. An educational piece with a heartbreaking reality."
"I can not express enough how much respect I have for Scott. Letting us in to his life through chapters. I've only made it to page 37 and I'm just so emotional… I'm so thankful I got this book and I will be lending it to my family to read. You are all so strong."
"After the first chapter, you will see that Scott has poured his heart and soul into this book. As I read this book- it's like Scott is sitting on the couch right beside me -telling me his story. It's educational, emotional, empathetic and excellent! We have all been touched by this- out of control epidemic -in one way or the other. Most of us don't understand the side of the person who is addicted- or the family that is helping them- I believe this book will help us to begin to understand both sides – you know the elephant in the room that no one wants to talk about."
"Excellent job Scott and Wes! Thank you so much for sharing your journey and for educating me. I hope thousands of peoples eyes will be opened to this "disease" from you sharing your story."
"I am having a hard time putting it down. I think every parent should read this! And I am only on page 55! So much good is coming from all the pain. Scott is such a hero for putting this out there. (although I am sure he would never see himself that way). This could easily be a movie!"
"I'm just amazed at this book. Scott's hard work is recognized- your strength in keeping him together-Wes handling things and continuing to pursue his career in a field of medicine when it has let his family down. I'm just beyond amazed and I know others reading are feeling the same."
"I am amazed at the openness, honesty and vulnerability Scott & Wes are showing in their writing. Wow!! So insightful. I am amazed. I haven't finished reading but I'm already blown away."
"Absolutely outstanding. Very powerful, sad, and cleansing at the same time. Great, great work."
"This is the RAW reality of addiction…it doesn't discriminate between economic levels, race, gender….this is my hometown, people I went to school with, people I thought would never be touched by the evils of addiction….very eye opening! Very educational! As the step parent of an addict of 20+ years it is very emotional to read…ANYONE who is touched in ANY way by addiction MUST read the reality of this family's story……"
"I got this book out of curiosity mostly. Could a small town blue collar businessman write a book? Would there be juicy details from a well-known local family? YES! and Yes. I couldn't put this book down. The people are real (because they are real) and the struggles are immense. It's a whole new perspective on a story I had judged from a distance and I now feel respect for Mr. Weidle and empathy for his family."